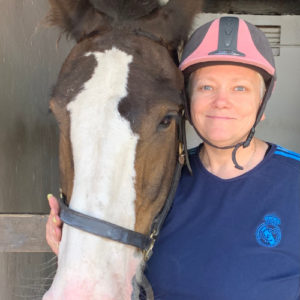 Participant of the Year
Winner – Sheila Barnett
Sheila joined Ravelrig RDA as a participant two years ago. She excelled in her riding, qualifying for the National Championships last year, held at Hartpury University & College in July. She has gotten stuck into fundraising activities for the Group, including running a Tack Shop and organising rug sale events. To date, she has raised over £5,000 for the Group. Sheila has also taken on organising social events for the Ravelrig RDA, including throwing a festive Christmas party, which was enjoyed by all in the Group. She has also taken the next step and started on the coaching pathway to become an RDA Coach. Recently, Sheila has suffered some health complications having been diagnosed with cancer. She's endured her treatment courageously and never let it stop her involvement in Ravelrig.
Sheila is the perfect example of the RDA motto "it's what you can do that counts".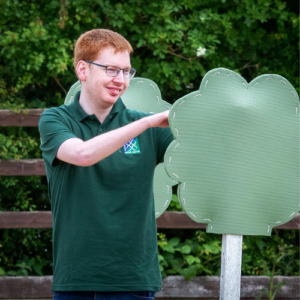 RDA UK Volunteer of the Year
Winner – Matthew Dalley
A familiar face to many in RDA, Matt is the Regional Publicity Officer (RPO) for RDA's North Midlands region, which he started in 2016. Matt has been part of the organisation since he was 6, starting as a participant, but now Matt is also an RPO, Regional Participant Representative (RPR) for North Midlands and supports his Group, Scropton Horse Centre, on their social media and website.
Matt is wholly dedicated to his role as RPO, tirelessly promoting his region and RDA. He is a social media whizz and produces press releases and a regular, regional newsletter. His social media skills are utilised at RDA's National Championships, where Matt supports the National Office Communications department during the event, getting really stuck in and producing top quality content. Matt is always on top of hot topics and news, and finds innovative ways to connect with the Groups in his region. Through his role as RPO and RPR, Matt is always supporting the volunteers and participants in his region, from cheering them on at the sidelines in RDA competitions to sharing their stories. He is also supportive of the other RPOs, giving advice and sharing ideas, as well as praising and supporting their work.
Despite any challenges Matt may face, he always works hard to overcome them and always does his best for his Region. He embodies RDAs motto of "it's what you can do that counts".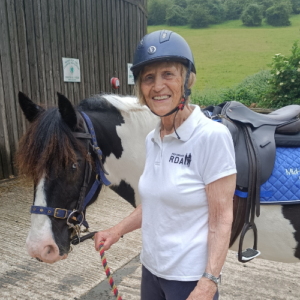 Volunteer of the Year
Winner – Ruby Grimshaw
Ruby joined Mid Sussex RDA in 2011 as an experienced BHSAI coach and retired Physiotherapist. She soon became and RDA Coach, Group Chair and their driving force for the last 6 years. In 2019, for the Group's 50th anniversary, Ruby arranged a fun-filled day for all in the Group and guests, such as the Mayor of Brighton. Her enthusiasm is always infectious to everyone around her.
Her Group describe her as the tower of strength during the pandemic, arranging weekly Zoom meetings to keep in touch and on their return, arranging several intensive training days to make sure everyone was up to speed and felt confident. This year, Ruby was integral to the purchase of their new horse, William. As well as putting a lot into the process of his purchase, she has also put in extra work behind the scenes to get him ready to be used in RDA sessions. She is a well-liked coach and she always keeps the participants on their toes whilst also injecting a little humour into her sessions.
She will celebrate her 83rd birthday this year, but her Group say she has more energy than the best of us and deserves recognition for her tireless dedication and hard work for her Group.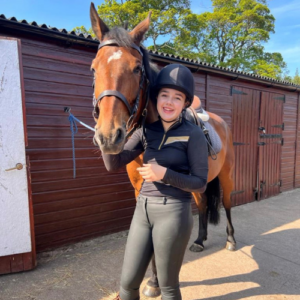 Young Volunteer of the Year
Supported by People's Postcode Lottery
Winner – Cara Edwards
Cara started volunteering at Ravelrig RDA in 2018, aged 12, with limited equine experience. From the start, she understood the commitment needed to volunteer at her local RDA Group, appreciating that only through the dedication of volunteers could riding sessions go ahead. As Cara grew within the Group, she became more involved. She has buddied with numerous new volunteers, making sure they feel welcomed and part of the Ravelrig community, as well as helping with basic training and building their confidence.
Cara is also a favourite amongst the Ravelrig participants, providing them with encouragement and confidence. Her positive engagement with the participants is infectious and inspires confidence in the new volunteers to do the same. She always puts herself forward for events and fundraising, and she never shies away from a task. Her Group describes her as a dedicated and caring volunteer, who is always willing to go the extra mile.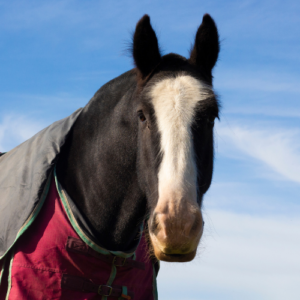 Equine of the Year
Winner – Saxon
In his 4 short years with Saxon RDA, Saxon (aptly named) has already had a big impact at the Group. He is a gentle giant, standing at 15.2hh, and is an 11 year old black Irish Cob. His favourite thing to do is eat, especially ice lollies, and he has a party trick of taking the whole lolly off the stick in one go! His love of eating will go as far as trying to nibble the plastic leaves on the Countryside Challenge apple trees and getting himself stuck in hedges in search of green grass.
He arrived at the Group very green; he couldn't canter in a circle, didn't know how to jump and had poor dentistry. The pandemic gave the Group the opportunity to work on his training and give him the space to recover. Now, Saxon will turn his hoof to any job. He is an immediate favourite with the participants and is the most used horse in the Group. Saxon has also helped riders from his Group and others in competing at our National and Virtual National Championships. Every rider who sat on him placed and won a rosette, and for his stellar performance he was awarded the Harvey Cup.
They can depend on Saxon for any kind of rider and in any kind of session. Saxon's Group call him "one-in-a-million".