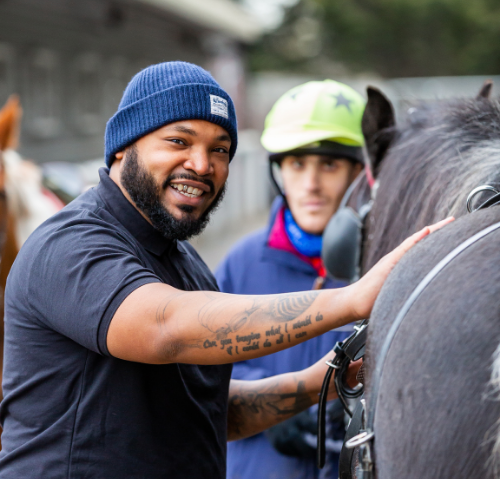 Become one of our helping hands
Volunteers are essential in every area of RDA life. From coaches to cake bakers, people support RDA in many different ways – and we always need more. Whatever skills you can bring, giving your time to your local RDA group will mean that more disabled people can enjoy the therapy and fun of horses.
Volunteering with RDA should be rewarding and fulfilling – and we want you to benefit from your time with us. Our award-winning program of volunteer training means it's not just our participants who get the chance to learn and achieve their goals.
We welcome volunteers from the age of 12 and over, there is no upper age limit and we need a wide range of skills – not just with horses.  RDA is a diverse organisation and we are at our best when we bring together people of all ages, backgrounds and abilities.
We're looking forward to welcoming you to the RDA family, so why not find your nearest group today.
Check with your local RDA centre as the minimum age may vary.

…Volunteering for RDA has given me a purpose and a new direction in life. I can honestly say it is the best thing I have ever done…





Enjoy the outdoors
(and keep fit!)