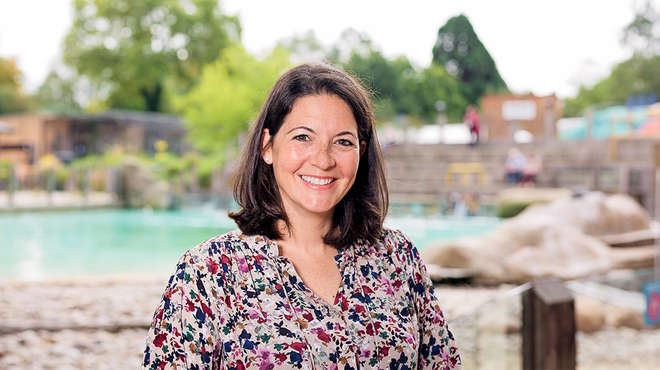 Riding for the Disabled Association (RDA) have announced that Kathryn England has been appointed as their new Chief Executive. Kathryn joins RDA from Zoological Society of London (ZSL) London Zoo, the international conservation charity and global destination, and will start on 1st March 2023.
Kathryn is currently Chief Operating Officer at ZSL London Zoo, managing a large and diverse team of staff and volunteers. She brings extensive people skills and experience, as well as strong financial acumen delivered through a wide portfolio of both fundraising and commercial income streams.
Having spent most of her career in organisation that work with animals, Kathryn strives to make a real difference; to create a real and tangible impact.
Kathryn says:
"The engagement between animals and people and the powerful impact this can have on the lives of individuals is something magical. Within my role at ZSL, I witness daily the powerful effect that a connection with an animal can have on people's outlook on life. I am also a Trustee for Hearing Dogs for Deaf People and through this, I see the role that animals can play in transforming the day to day lives of people living with a disability.
"I grew up living and breathing horses and I firmly believe that owning and competing with them shaped who I am today. Spending time with horses as well developing a deep connection with them in a sporting capacity not only developed my physical fitness, but my self-confidence and skills and ethics such as empathy and patience, hard work and compassion.
"Riding for the Disabled Association was the first ever influence on my career; the local group was where I participated in my first ever volunteering work experience placement. Since then, my entire career has always had animals at its heart and so being able to combine my personal passion for animals, especially horses, with my professional experience gained amongst leading charities, and lead this wonderful charity forward to its next exciting chapter, is a true privilege".
RDA UK Chair of Trustees, Rachel Medill MBE says:
"We are delighted to welcome Kathryn to RDA. It's an exciting time for us, as the RDA continues to deliver against our new strategy: rebuilding participant numbers post-pandemic, building the strength and capacity of our network, and attracting new volunteers and coaches. Kathryn brings a wealth of skills, experience, and a personal passion for the RDA. I am confident that she will help us achieve our ambitious plans, and be an inspiring leader."
Paul Ringer, Interim CEO, has provided valuable leadership during the last nine months and will be leaving the organisation in December. Rachel Medill, in her role as Chair of Trustees will continue to lead the organisation supported by Lincoln Clarke who knows RDA well. He will manage day-to-day operations and provide continuity of handover to Kathryn as she takes the reins. Lincoln's career has spanned many sectors, from FMCG and leisure, to museums, heritage and social care.