The New Year Honours List for 2023 recognises the achievements and service of extraordinary people, and the RDA are delighted that two of our long serving volunteers are among the first to receive honours from King Charles III.
Evelyn (Eve) Pattinson, Founder of Eden RDA Group in Penrith, has been awarded the Member of the Order of the British Empire (MBE) for charitable services.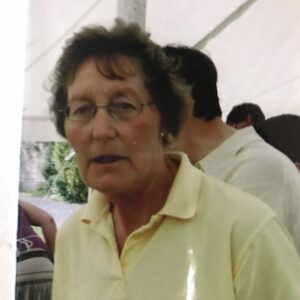 Eve Pattinson
Eve founded the Eden group in 1980, initially borrowing two ponies to provide carriage driving for adults with Cerebral Palsy. Through her dedication and determination the group has continued to expand its activities over forty plus years.
Lady Lucinda Hothfield, Chair of Eden Group said: "Eve is an exceptional lady who has touched the lives of so many. She was a dedicated leader of our group for many years and remains a passionate believer in the physical and mental health benefits of learning new skills through interactions with horses. I could not be happier for her that she has been recognised in this way."
Susan Anderson, Founder Member of Barton Group Riding for the Disabled in Cambridgeshire, has been awarded the British Empire Medal (BEM) for services to people with disabilities and to the community in Linton, Cambridgeshire.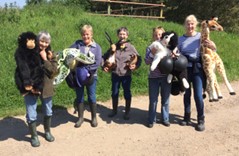 Susan (far left) with volunteers after a session 'on Safari' in Barrington.
Fellow RDA volunteer said "Susan volunteered for RDA for 45 years and was an inspiring coach for many years, both 'forward going' and bursting with good ideas. Sue was always particularly sensitive to the individual child's response, giving as long as needed. She embodies the RDA qualities of steadfastness, duty and service, which she combines with great humanity and humour, and she thoroughly deserves this award."
The RDA relies entirely on the ongoing support of thousands of volunteers each year and we send our warmest congratulations and thanks to Evelyn and Susan. They represent everything that makes the RDA and our family of volunteers so special, and are truly deserving of these awards.
RDA exists to enrich lives through horses. For over 50 years we have been striving to ensure that anyone with an impairment can benefit from the unique bond between humans and horses. With fun activities like riding and carriage driving, we provide therapy, fitness, skills development and opportunities for achievement – all supported by a nationwide network of volunteers and coaches at RDA groups.