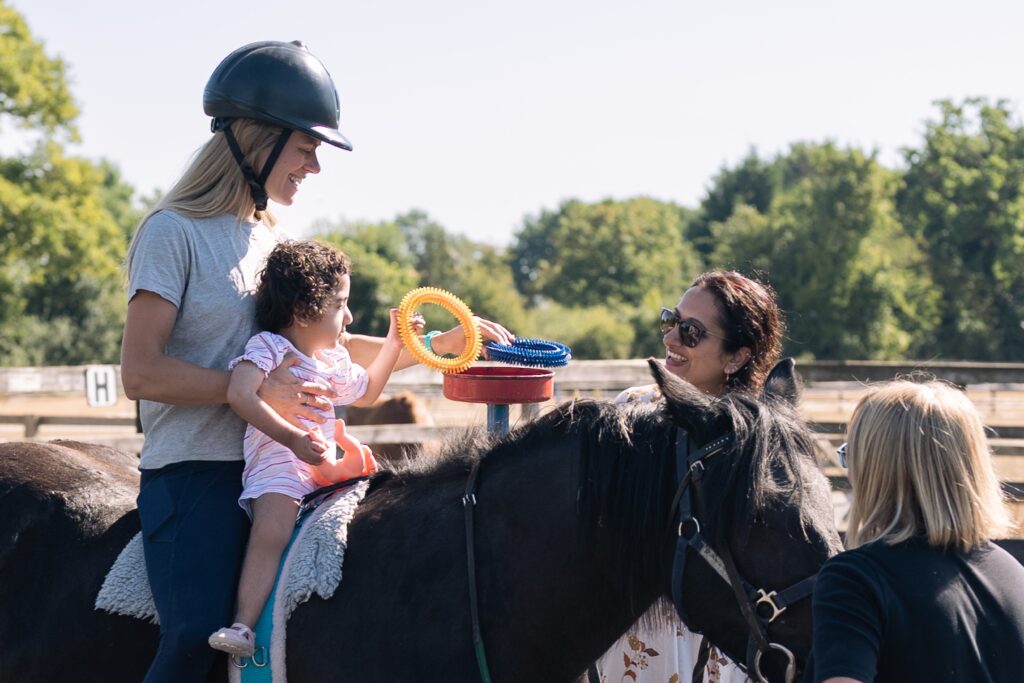 Hippotherapy is an adjunct to physiotherapy and uses the equines movement to engage sensory, neuromotor, musculoskeletal, and cognitive systems to promote functional outcomes. It exists within a medical model of treatment.
We recently spoke to mum Sonya, who brings her 2 and a half year old daughter Noreen to hippotherapy at Bank Farm RDA in Buckinghamshire.
"Noreen was born with several issues, including a neuromuscular condition that causes muscle weakness. As a result of her condition, she has a slightly curve in her spine."
Noreen has been attending Hippotherapy at Bank Farm since May. "We come to hippotherapy to build up her core strength, and since coming in May, it's made a huge difference. Its really helped her posture. Before, she would slump down quite quickly, but now she's much better." Hippotherapy has helped Noreen in other activities too, "In her swimming, she wouldn't do it without me holding her, but now she can swim by herself in her float suit. Hippotherapy has definitely made a massive difference and I really think it's because of coming to Bank Farm for hippotherapy."
"You can tell she gets a good workout from it because she sleeps so well after her session. She doesn't realise how much work she is doing in her session, I don't think she realises she's doing physiotherapy because she's distracted by the games and it's just so fun for her. Other types of physiotherapy aren't quite as fun for her."
"It's such a lovely way to connect with animals and meet other people." Many have reported the change in not just physicality but many also see changes in confidence and communication. "At first, she was quite scared as a pony is quite large to her, but now she's calm and singing in her sessions, she loves coming her now. It's really improved her confidence and she's definitely come out of her shell."
People find hippotherapy in different ways, it could be through an NHS referral or by seeing an advert in a local GP surgery. Sonya found it through a Google search, "We hadn't heard of hippotherapy before, but we found out about it through someone in America and a few mums who had children with similar conditions. We did a Google search and found Bank Farm, and we got really lucky that the physio Hannah had some slot open at the right time for us. It seemed like fate."
"Anyone I've spoken to since who have children with a neuromuscular condition, I tell them how amazing hippotherapy is and that they need to try it. I 100% recommend it."
Please note: The therapist may decide that therapeutic goals are best met without a riding hat, perhaps because the client has very poor head control and the additional weight of the hat would increase their difficulty. This is a clinical decision made by the therapist in light of a detailed assessment.
RDA and Association of Chartered Physiotherapists in Equine Activities (ACPEA) work closely together and if you wish to find your local Hippotherapy RDA Centre, please contact Lucy Wake lwake@rda.org.uk or go through the ACPEA website to find your nearest ACPEA therapist: The Association of Chartered Physiotherapists in Equine Activities – ACPEA