Agria Lifetime Equine Insurance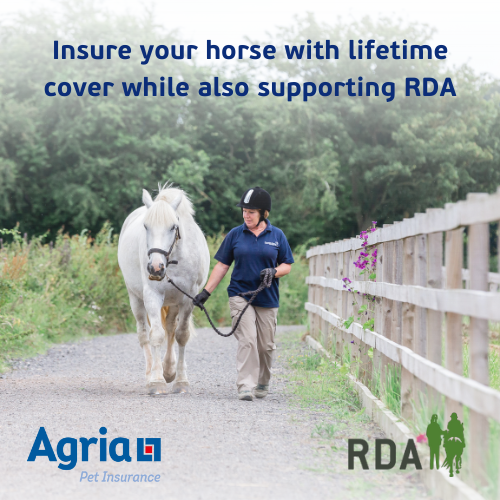 Support RDA through Agria's Lifetime Equine insurance
At Riding for the Disabled Association (RDA), our equines are essential to what we do and we always ensure that they get the best care possible. We are proud to be supported by Agria Pet Insurance.
The partnership between horse and owner is precious. This is why Agria offers lifetime equine insurance – the only provider in the UK to do so – giving owners the peace of mind that their horses will get ongoing veterinary care without the worry of injuries and ailments being excluded in the future.
Agria insured the very first animal in the world: a horse in 1890. Their team contains equine specialists who not only know horses but love them and understand the unique role they play in our lives. This is one of the many reasons that Agria say they are proud to support the RDA.
Vicki Wentworth, Agria's Managing Director
"We are so aware of how much horses do to enrich our lives and what building a relationship with a horse can do for confidence and happiness. Nothing illustrates this more than the amazing work done by RDA, which is such a valuable and loved charity. As a horse lover, for me this charity epitomises all the good that horses bring to our lives."