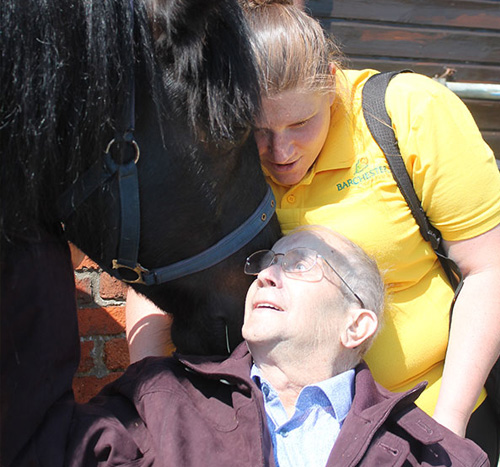 Horses are central to everything that happens at RDA: friendship, achievement, therapy and fun. Carefully chosen for their temperament and suitability, there are around 2,500 horses working for us all over the UK.
Meet Rio
Rio is an 8-year-old Dales pony who joined Kesteven Rideability in Lincolnshire three years ago. One of his riders, Susan, says: "Despite his cheeky attitude his potential was obvious. Three years on we have a pony of immeasurable talent."
Rio provides physical therapy for his riders of all ages and abilities, takes part in the group's saddle club, competes at dressage and even provides experiences for the group's older clients as part of their weekly 'Silver Hour'. "Rio is the complete RDA package," says Susan. "His ability to meets these different needs, despite his young age, marks him out as very special."
He helps to build the skills and confidence of his novice rides in sessions offering physical therapy, learning through numbers, letters and words and negotiating obstacles. He is also great for riders who want to progress their skills; helping them to develop independence, improve their riding and learn pony care.
As a larger pony, Rio is also great with adult riders. "I have complex disabilities and need a special pony," explains Susan. "When Rio came my confidence was low. Steadfast and intelligent, he helped me overcome my fears and move forward positively."
Rio is a great ambassador for RDA horses everywhere: patient, intelligent, fit and healthy, adaptable – and fun too.